| | | | |
| --- | --- | --- | --- |
| MotoAmerica Bike Series - 3 Day Pass in Brainerd, Minnesota Tickets at Brainerd International Raceway | 7/30/2021 3:30 | $166 | View Tickets |
| MotoAmerica Bike Series in Brainerd, Minnesota Tickets at Brainerd International Raceway | 7/30/2021 8:00 | $86 | View Tickets |
| MotoAmerica Bike Series in Brainerd, Minnesota Tickets at Brainerd International Raceway | 7/31/2021 8:00 | $88 | View Tickets |
| MotoAmerica Bike Series in Brainerd, Minnesota Tickets at Brainerd International Raceway | 8/01/2021 8:00 | $89 | View Tickets |
| MotoAmerica Bike Series - 3 Day Pass in Wampum, Pennsylvania Tickets at Pittsburgh International Race Complex | 8/13/2021 3:30 | $136 | View Tickets |
| MotoAmerica Bike Series in Wampum, Pennsylvania Tickets at Pittsburgh International Race Complex | 8/13/2021 8:00 | $57 | View Tickets |
| MotoAmerica Bike Series in Wampum, Pennsylvania Tickets at Pittsburgh International Race Complex | 8/14/2021 8:00 | $104 | View Tickets |
| MotoAmerica Bike Series in Wampum, Pennsylvania Tickets at Pittsburgh International Race Complex | 8/15/2021 8:00 | $104 | View Tickets |
| MotoAmerica Bike Series - 3 Day Pass in Millville, New Jersey Tickets at New Jersey Motorsports Park | 9/10/2021 3:30 | $136 | View Tickets |
| MotoAmerica Bike Series in Millville, New Jersey Tickets at New Jersey Motorsports Park | 9/10/2021 8:00 | $57 | View Tickets |
| MotoAmerica Bike Series in Millville, New Jersey Tickets at New Jersey Motorsports Park | 9/11/2021 8:00 | $104 | View Tickets |
| MotoAmerica Bike Series in Millville, New Jersey Tickets at New Jersey Motorsports Park | 9/12/2021 8:00 | $104 | View Tickets |
| MotoAmerica Bike Series - 3 Day Pass in Leeds, Alabama Tickets at Barber Motorsports Park | 9/17/2021 3:30 | $136 | View Tickets |
| MotoAmerica Bike Series in Leeds, Alabama Tickets at Barber Motorsports Park | 9/17/2021 8:00 | $57 | View Tickets |
| MotoAmerica Bike Series in Leeds, Alabama Tickets at Barber Motorsports Park | 9/18/2021 8:00 | $109 | View Tickets |
| MotoAmerica Bike Series in Leeds, Alabama Tickets at Barber Motorsports Park | 9/19/2021 8:00 | $108 | View Tickets |
Cheap MotoAmerica Bike Series Tickets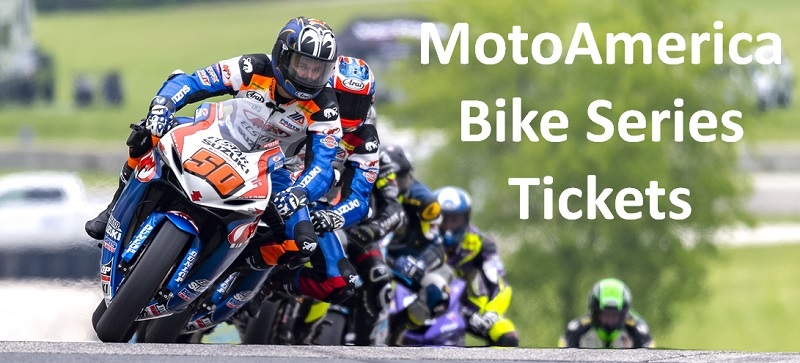 If you want to watch MotoAmerica Bike Series, then you are at right place. Tickets4Race.com offers an easy way to purchase cheap MotoAmerica Bike Series tickets. We don't only sell tickets, but also provide 100% worry free guarantee. You will get discount MotoAmerica Bike Series tickets on time and exact same place that you will select.
3% MotoAmerica Bike Series Tickets Discount Coupon Promo Code: "CHEAPEST"
Check out the awesome rates and buy these discounted MotoAmerica Bike Series tickets 2021 to get the best seats in the race. Tickets4Race.com is always available at your service to provide you with your desired seats according to your convenience. What are you waiting for get your cheap MotoAmerica Bike Series Tickets from us now! Make sure to check out the MotoAmerica Bike Series seating map for the exact location of your seat.

MotoAmerica Bike Series HighLights:
MotoAmerica Bike Series Info:
MotoAmerica Bike Series MotoAmerica Bike racing includes high-speed bikes with 190+mph speed. It is the most extensive American road racing series. This MotoAmerica racing festival is a racing shoe and provides camping, kids area, free games, and stunt shows. It is a complete family-oriented motorbike show. The MotoAmerica bike show features all of the leading heavy bike sponsors. The show continues for three weekend days, gives you a chance to enjoy your weekend with your family. Tickets are free for kids under 12 years of age. A large number of people come to enjoy this motoAmerica bike series.