| | | | |
| --- | --- | --- | --- |
| Long Beach Formula Drift Tickets at Long Beach Convention Center, California | 4/12/2024 3:30 | $115 | View Tickets |
| Long Beach Formula Drift Tickets at Long Beach Convention Center, California | 4/13/2024 3:30 | $115 | View Tickets |
| Long Beach Formula Drift Tickets at Long Beach Convention Center, California | 4/19/2024 3:30 | $115 | View Tickets |
| Long Beach Formula Drift Tickets at Long Beach Convention Center, California | 4/20/2024 3:30 | $115 | View Tickets |
| Braselton Formula Drift Tickets at Michelin Raceway Road Atlanta, Georgia | 5/09/2024 3:30 | $115 | View Tickets |
| Braselton Formula Drift Tickets at Michelin Raceway Road Atlanta, Georgia | 5/10/2024 3:30 | $115 | View Tickets |
| Braselton Formula Drift Tickets at Michelin Raceway Road Atlanta, Georgia | 5/11/2024 3:30 | $115 | View Tickets |
| Orlando Formula Drift Tickets at Orlando Speed World Dragway, Florida | 5/31/2024 3:30 | $115 | View Tickets |
| Orlando Formula Drift Tickets at Orlando Speed World Dragway, Florida | 6/01/2024 3:30 | $115 | View Tickets |
| Englishtown Formula Drift Tickets at Old Bridge Township Raceway Park, New Jersey | 6/20/2024 3:30 | $115 | View Tickets |
| Englishtown Formula Drift Tickets at Old Bridge Township Raceway Park, New Jersey | 6/21/2024 3:30 | $115 | View Tickets |
| Englishtown Formula Drift Tickets at Old Bridge Township Raceway Park, New Jersey | 6/22/2024 3:30 | $115 | View Tickets |
| Madison Formula Drift Tickets at World Wide Technology Raceway at Gateway, Illinois | 7/18/2024 3:30 | $115 | View Tickets |
| Madison Formula Drift Tickets at World Wide Technology Raceway at Gateway, Illinois | 7/19/2024 3:30 | $115 | View Tickets |
| Madison Formula Drift Tickets at World Wide Technology Raceway at Gateway, Illinois | 7/20/2024 3:30 | $115 | View Tickets |
| Monroe Formula Drift Tickets at Evergreen Speedway, Washington | 8/09/2024 3:30 | $115 | View Tickets |
| Monroe Formula Drift Tickets at Evergreen Speedway, Washington | 8/10/2024 3:30 | $115 | View Tickets |
| Tooele Formula Drift Tickets at Utah Motorsports Campus, Utah | 8/29/2024 3:30 | $115 | View Tickets |
| Tooele Formula Drift Tickets at Utah Motorsports Campus, Utah | 8/30/2024 3:30 | $115 | View Tickets |
| Tooele Formula Drift Tickets at Utah Motorsports Campus, Utah | 8/31/2024 3:30 | $115 | View Tickets |
| Baldwin Park Formula Drift Tickets at Irwindale Speedway, California | 10/18/2024 3:30 | $115 | View Tickets |
| Baldwin Park Formula Drift Tickets at Irwindale Speedway, California | 10/19/2024 3:30 | $115 | View Tickets |
Formula Drift Tickets
If you want to watch Formula Drift, then you are at right place. Tickets4Race.com offers an easy way to purchase cheap Formula Drift tickets. We don't only sell tickets, but also provide 100% worry free guarantee. You will get discount Formula Drift tickets on time and exact same place that you will select.

3% Formula Drift Tickets Discount Coupon Promo Code: "CHEAPEST"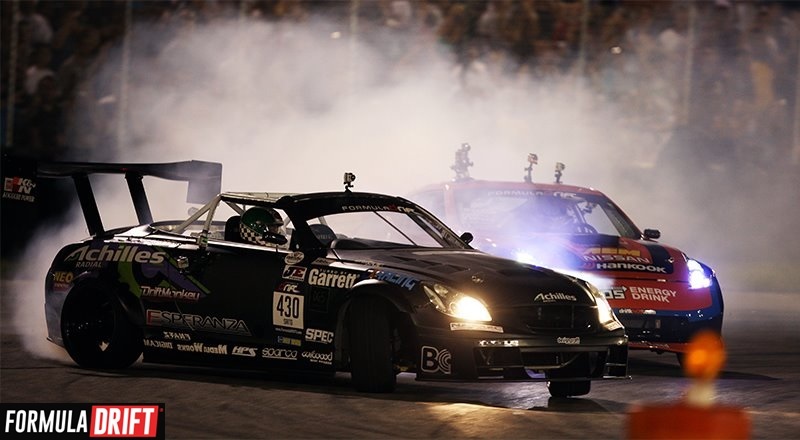 Check out the awesome rates and buy these discounted Formula Drift tickets 2023 to get the best seats in the race. Tickets4Race.com is always available at your service to provide you with your desired seats according to your convenience. What are you waiting for get your cheap Formula Drift Tickets from us now! Make sure to check out the Formula Drift seating map for the exact location of your seat.
Formula Drift HighLights:
Formula Drift is a popular motorsport with high-performance cars drifting through challenging courses. Founded in 2003, the Formula Drift championship has grown into a global phenomenon with events across the United States, Japan, and Canada. Drivers compete in high-powered, rear-wheel-drive vehicles, showcasing their driving skills by executing precise drifts through technical courses. Formula Drift events are known for their exciting atmosphere, with thousands of fans coming to watch the action and cheer on their favorite drivers. The sport has gained a cult following among car enthusiasts, and it continues to evolve with new technologies and techniques that push the limits of what's possible on the track.