| | | | |
| --- | --- | --- | --- |
| Monster Jam in Tacoma, Washington Tickets at Tacoma Dome | 9/18/2021 19:00 | $ | View Tickets |
| Monster Jam in Tacoma, Washington Tickets at Tacoma Dome | 9/19/2021 12:00 | $57 | View Tickets |
| Monster Jam in Rosemont, Illinois Tickets at Allstate Arena | 9/19/2021 13:00 | $73 | View Tickets |
| Monster Jam in Hagerstown, Maryland Tickets at Hagerstown Speedway | 9/19/2021 16:00 | $55 | View Tickets |
| Monster Jam in Tacoma, Washington Tickets at Tacoma Dome | 9/19/2021 17:30 | $44 | View Tickets |
| Monster Jam in Rosemont, Illinois Tickets at Allstate Arena | 9/19/2021 18:30 | $58 | View Tickets |
| Monster Jam in Hidalgo, Texas Tickets at Payne Arena | 9/24/2021 19:30 | $58 | View Tickets |
| Monster Jam in Albany, New York Tickets at Times Union Center | 9/25/2021 13:00 | $55 | View Tickets |
| Monster Jam in Hidalgo, Texas Tickets at Payne Arena | 9/25/2021 14:00 | $39 | View Tickets |
| Monster Jam in Albany, New York Tickets at Times Union Center | 9/25/2021 19:00 | $59 | View Tickets |
| Monster Jam in Greensboro, North Carolina Tickets at Greensboro Coliseum At Greensboro Coliseum Complex | 9/25/2021 19:00 | $45 | View Tickets |
| Monster Jam in Hidalgo, Texas Tickets at Payne Arena | 9/25/2021 19:30 | $55 | View Tickets |
| Monster Jam in Albany, New York Tickets at Times Union Center | 9/26/2021 13:00 | $51 | View Tickets |
| Monster Jam in Hidalgo, Texas Tickets at Payne Arena | 9/26/2021 14:00 | $56 | View Tickets |
| Monster Jam in Greensboro, North Carolina Tickets at Greensboro Coliseum At Greensboro Coliseum Complex | 9/26/2021 14:00 | $51 | View Tickets |
| Monster Jam in Hidalgo, Texas Tickets at Payne Arena | 9/26/2021 19:30 | $57 | View Tickets |
| Monster Jam in Southaven, Mississippi Tickets at Landers Center | 10/01/2021 19:00 | $55 | View Tickets |
| Monster Jam in Hamilton, Ontario Tickets at FirstOntario Centre | 10/02/2021 13:00 | $43 | View Tickets |
| Monster Jam in Southaven, Mississippi Tickets at Landers Center | 10/02/2021 13:00 | $50 | View Tickets |
| Monster Jam in Hamilton, Ontario Tickets at FirstOntario Centre | 10/02/2021 19:00 | $44 | View Tickets |
| Monster Jam in Glendale, Arizona Tickets at State Farm Stadium | 10/02/2021 19:00 | $55 | View Tickets |
| Monster Jam in Southaven, Mississippi Tickets at Landers Center | 10/02/2021 19:00 | $55 | View Tickets |
| Monster Jam in Hamilton, Ontario Tickets at FirstOntario Centre | 10/03/2021 13:00 | $43 | View Tickets |
| Monster Jam in Southaven, Mississippi Tickets at Landers Center | 10/03/2021 14:00 | $46 | View Tickets |
| Monster Jam Triple Threat Series in Grand Rapids, Michigan Tickets at Van Andel Arena | 10/08/2021 19:00 | $41 | View Tickets |
| Monster Jam in Omaha, Nebraska Tickets at CHI Health Center Omaha | 10/09/2021 13:00 | $48 | View Tickets |
| Monster Jam Triple Threat Series in Grand Rapids, Michigan Tickets at Van Andel Arena | 10/09/2021 13:00 | $31 | View Tickets |
| Monster Jam in Omaha, Nebraska Tickets at CHI Health Center Omaha | 10/09/2021 19:00 | $47 | View Tickets |
| Monster Jam in El Paso, Texas Tickets at Sun Bowl Stadium | 10/09/2021 19:00 | $43 | View Tickets |
| Monster Jam Triple Threat Series in Grand Rapids, Michigan Tickets at Van Andel Arena | 10/09/2021 19:00 | $41 | View Tickets |
| Monster Jam Triple Threat Series in Grand Rapids, Michigan Tickets at Van Andel Arena | 10/10/2021 13:00 | $41 | View Tickets |
| Monster Jam in El Paso, Texas Tickets at Sun Bowl Stadium | 10/10/2021 15:00 | $39 | View Tickets |
| Monster Jam Triple Threat Series in Grand Rapids, Michigan Tickets at Van Andel Arena | 10/10/2021 18:30 | $31 | View Tickets |
| Monster Jam in Arlington, Texas Tickets at AT&T Stadium | 10/16/2021 19:00 | $27 | View Tickets |
| Monster Jam in Nampa, Idaho Tickets at Arena At Ford Idaho Center | 10/22/2021 19:00 | $39 | View Tickets |
| Monster Jam in Nampa, Idaho Tickets at Arena At Ford Idaho Center | 10/23/2021 13:00 | $42 | View Tickets |
| Monster Jam in Nampa, Idaho Tickets at Arena At Ford Idaho Center | 10/23/2021 19:00 | $41 | View Tickets |
| Monster Jam in Houston, Texas Tickets at NRG Stadium | 10/23/2021 19:00 | $39 | View Tickets |
| Monster Jam in Dayton, Ohio Tickets at EJ Nutter Center | 10/29/2021 19:00 | $44 | View Tickets |
| Monster Jam in Dayton, Ohio Tickets at EJ Nutter Center | 10/30/2021 13:00 | $41 | View Tickets |
| Monster Jam in Dayton, Ohio Tickets at EJ Nutter Center | 10/30/2021 19:00 | $42 | View Tickets |
| Monster Jam in Bridgeport, Connecticut Tickets at Webster Bank Arena At Harbor Yard | 11/12/2021 19:00 | $44 | View Tickets |
| Monster Jam in Bridgeport, Connecticut Tickets at Webster Bank Arena At Harbor Yard | 11/13/2021 13:00 | $63 | View Tickets |
| Monster Jam in Bridgeport, Connecticut Tickets at Webster Bank Arena At Harbor Yard | 11/13/2021 19:00 | $58 | View Tickets |
| Monster Jam in Bridgeport, Connecticut Tickets at Webster Bank Arena At Harbor Yard | 11/14/2021 13:00 | $66 | View Tickets |
| Monster Jam in Baltimore, Maryland Tickets at Royal Farms Arena | 1/07/2022 19:00 | $56 | View Tickets |
| Monster Jam in Salt Lake City, Utah Tickets at Vivint Smart Home Arena | 1/07/2022 19:00 | $44 | View Tickets |
| Monster Jam in Baltimore, Maryland Tickets at Royal Farms Arena | 1/08/2022 13:00 | $63 | View Tickets |
| Monster Jam in Salt Lake City, Utah Tickets at Vivint Smart Home Arena | 1/08/2022 13:00 | $44 | View Tickets |
| Monster Jam in Oakland, California Tickets at Oakland Coliseum | 1/08/2022 19:00 | $66 | View Tickets |
| Monster Jam in Baltimore, Maryland Tickets at Royal Farms Arena | 1/08/2022 19:00 | $56 | View Tickets |
| Monster Jam in Salt Lake City, Utah Tickets at Vivint Smart Home Arena | 1/08/2022 19:00 | $44 | View Tickets |
| Monster Jam in Baltimore, Maryland Tickets at Royal Farms Arena | 1/09/2022 13:00 | $63 | View Tickets |
| Monster Jam in Salt Lake City, Utah Tickets at Vivint Smart Home Arena | 1/09/2022 13:00 | $44 | View Tickets |
| Monster Jam in Oakland, California Tickets at Oakland Coliseum | 1/09/2022 15:00 | $66 | View Tickets |
| Monster Jam in Kansas City, Missouri Tickets at T-Mobile Center | 1/14/2022 19:00 | $43 | View Tickets |
| Monster Jam in Tacoma, Washington Tickets at Tacoma Dome | 1/14/2022 19:00 | $91 | View Tickets |
| Monster Jam in Kansas City, Missouri Tickets at T-Mobile Center | 1/15/2022 13:00 | $42 | View Tickets |
| Monster Jam in Tacoma, Washington Tickets at Tacoma Dome | 1/15/2022 13:00 | $91 | View Tickets |
| Monster Jam in Kansas City, Missouri Tickets at T-Mobile Center | 1/15/2022 19:00 | $43 | View Tickets |
| Monster Jam in San Diego, California Tickets at Petco Park | 1/15/2022 19:00 | $58 | View Tickets |
| Monster Jam in Tacoma, Washington Tickets at Tacoma Dome | 1/15/2022 19:00 | $91 | View Tickets |
| Monster Jam in Kansas City, Missouri Tickets at T-Mobile Center | 1/16/2022 13:00 | $42 | View Tickets |
| Monster Jam in Tacoma, Washington Tickets at Tacoma Dome | 1/16/2022 13:00 | $101 | View Tickets |
| Monster Jam in San Diego, California Tickets at Petco Park | 1/16/2022 15:00 | $60 | View Tickets |
| Monster Jam in Tacoma, Washington Tickets at Tacoma Dome | 1/16/2022 18:30 | $91 | View Tickets |
| Monster Jam in Sacramento, California Tickets at Golden 1 Center | 1/21/2022 19:00 | $62 | View Tickets |
| Monster Jam in Anaheim, California Tickets at Angel Stadium | 1/22/2022 18:30 | $55 | View Tickets |
| Monster Jam in Sacramento, California Tickets at Golden 1 Center | 1/22/2022 19:00 | $62 | View Tickets |
| Monster Jam in St. Louis, Missouri Tickets at The Dome at America's Center | 1/22/2022 19:00 | $57 | View Tickets |
| Monster Jam in Sacramento, California Tickets at Golden 1 Center | 1/23/2022 13:00 | $62 | View Tickets |
| Monster Jam in St. Louis, Missouri Tickets at The Dome at America's Center | 1/23/2022 14:00 | $57 | View Tickets |
| Monster Jam in Anaheim, California Tickets at Angel Stadium | 1/23/2022 14:30 | $47 | View Tickets |
| Monster Jam in Washington, District Of Columbia Tickets at Capital One Arena | 1/29/2022 13:00 | $57 | View Tickets |
| Monster Jam in Washington, District Of Columbia Tickets at Capital One Arena | 1/29/2022 19:00 | $57 | View Tickets |
| Monster Jam in Washington, District Of Columbia Tickets at Capital One Arena | 1/30/2022 13:00 | $57 | View Tickets |
| Monster Jam in Tampa, Florida Tickets at Raymond James Stadium | 2/05/2022 19:00 | $60 | View Tickets |
| Monster Jam in Tampa, Florida Tickets at Raymond James Stadium | 2/06/2022 15:00 | $60 | View Tickets |
| Monster Jam in Denver, Colorado Tickets at Ball Arena | 2/11/2022 19:00 | $63 | View Tickets |
| Monster Jam in Denver, Colorado Tickets at Ball Arena | 2/12/2022 13:00 | $63 | View Tickets |
| Monster Jam in Minneapolis, Minnesota Tickets at US Bank Stadium | 2/12/2022 19:00 | $50 | View Tickets |
| Monster Jam in Denver, Colorado Tickets at Ball Arena | 2/12/2022 19:00 | $63 | View Tickets |
| Monster Jam in Minneapolis, Minnesota Tickets at US Bank Stadium | 2/13/2022 13:00 | $53 | View Tickets |
| Monster Jam in Denver, Colorado Tickets at Ball Arena | 2/13/2022 13:00 | $63 | View Tickets |
| Monster Jam in Anaheim, California Tickets at Angel Stadium | 2/19/2022 18:30 | $56 | View Tickets |
| Monster Jam in Anaheim, California Tickets at Angel Stadium | 2/20/2022 14:30 | $52 | View Tickets |
| Monster Jam in Anaheim, California Tickets at Angel Stadium | 2/26/2022 18:30 | $56 | View Tickets |
| Monster Jam in Detroit, Michigan Tickets at Ford Field | 2/26/2022 19:00 | $39 | View Tickets |
| Monster Jam in Anaheim, California Tickets at Angel Stadium | 2/27/2022 14:30 | $57 | View Tickets |
| Monster Jam in Detroit, Michigan Tickets at Ford Field | 2/27/2022 15:00 | $38 | View Tickets |
| Monster Jam in Jacksonville, Florida Tickets at TIAA Bank Field | 3/19/2022 19:00 | $71 | View Tickets |
| Monster Jam in Indianapolis, Indiana Tickets at Lucas Oil Stadium | 4/09/2022 19:00 | $56 | View Tickets |
| Monster Jam in Hampton, Georgia Tickets at Atlanta Motor Speedway | 4/09/2022 19:00 | $41 | View Tickets |
| Monster Jam in Indianapolis, Indiana Tickets at Lucas Oil Stadium | 4/10/2022 15:00 | $56 | View Tickets |
| Monster Jam in Hampton, Georgia Tickets at Atlanta Motor Speedway | 4/10/2022 15:00 | $43 | View Tickets |
| Monster Jam in Syracuse, New York Tickets at Carrier Dome | 4/16/2022 19:00 | $71 | View Tickets |
| Monster Jam World Finals - 2 Day Pass in Orlando, Florida Tickets at Camping World Stadium | 5/21/2022 3:30 | $ | View Tickets |
| Monster Jam World Finals (Time: TBD) in Orlando, Florida Tickets at Camping World Stadium | 5/21/2022 14:00 | $101 | View Tickets |
| Monster Jam World Finals (Time: TBD) in Orlando, Florida Tickets at Camping World Stadium | 5/22/2022 14:00 | $101 | View Tickets |
| Monster Jam in Seattle, Washington Tickets at Lumen Field | 4/17/2071 19:00 | $172 | View Tickets |
Cheap Monster Jam Tickets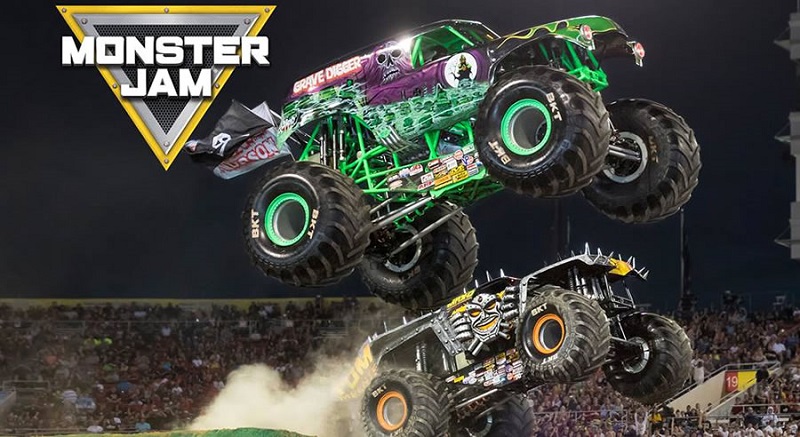 If you want to watch Monster Jam, then you are at right place. Tickets4Race.com offers an easy way to purchase cheap Monster Jam tickets. We don't only sell tickets, but also provide 100% worry free guarantee. You will get discount Monster Jam tickets on time and exact same place that you will select.
3% Monster Jam Tickets Discount Coupon Promo Code: "CHEAPEST"
Check out the awesome rates and buy these discounted Monster Jam tickets 2021 to get the best seats in the race. Tickets4Race.com is always available at your service to provide you with your desired seats according to your convenience. What are you waiting for get your cheap Monster Jam Tickets from us now! Make sure to check out the Monster Jam seating map for the exact location of your seat.

Monster Jam HighLights:
Monster Jam
Muster Jam is the largest, the ultimate monster truck racing event ever. Here mechanical beasts compete with each other to earn the top place in a variety of competitions. A treat of jaw-dropping displays and gravity-defying feats for thrill fans. An entertainment-packed family event that will have your heart thumping out of your chest.