| | | | |
| --- | --- | --- | --- |
| St. Petersburg IndyCar Series: Grand Prix of St. Petersburg - 3 Day Pass Tickets at Grand Prix - St. Petersburg, Florida | 3/08/2024 3:30 | $148 | View Tickets |
| St. Petersburg IndyCar Series: Grand Prix of St. Petersburg - Friday Tickets at Grand Prix - St. Petersburg, Florida | 3/08/2024 8:00 | $7 | View Tickets |
| St. Petersburg IndyCar Series: Grand Prix of St. Petersburg - Saturday Tickets at Grand Prix - St. Petersburg, Florida | 3/09/2024 8:00 | $17 | View Tickets |
| St. Petersburg IndyCar Series: Grand Prix of St. Petersburg - Sunday Tickets at Grand Prix - St. Petersburg, Florida | 3/10/2024 8:00 | $44 | View Tickets |
| Thermal IndyCar Series Tickets at The Twin Palms Circuit At The Thermal Club, California | 3/24/2024 3:30 | $201 | View Tickets |
| Long Beach IndyCar Series: Grand Prix of Long Beach Tickets at Long Beach Road Course, California | 4/21/2024 3:30 | $171 | View Tickets |
| Leeds IndyCar Series: Indy Grand Prix of Alabama Tickets at Barber Motorsports Park, Alabama | 4/28/2024 3:30 | $171 | View Tickets |
| Indianapolis IndyCar Series: Indycar Grand Prix - Practice & Qualifying Tickets at Indianapolis Motor Speedway, Indiana | 5/10/2024 3:30 | $51 | View Tickets |
| Indianapolis IndyCar Series: IndyCar Grand Prix Tickets at Indianapolis Motor Speedway, Indiana | 5/11/2024 3:30 | $51 | View Tickets |
| Indianapolis IndyCar Series: Indianapolis 500 Tickets at Indianapolis Motor Speedway, Indiana | 5/26/2024 3:30 | $67 | View Tickets |
| Detroit IndyCar Series: Detroit Grand Prix Tickets at Downtown Detroit Street Circuit, Michigan | 6/02/2024 3:30 | $148 | View Tickets |
| Elkhart Lake IndyCar Series Tickets at Road America Raceway, Wisconsin | 6/06/2024 3:30 | $79 | View Tickets |
| Elkhart Lake IndyCar Series Tickets at Road America Raceway, Wisconsin | 6/07/2024 3:30 | $86 | View Tickets |
| Elkhart Lake IndyCar Series Tickets at Road America Raceway, Wisconsin | 6/08/2024 3:30 | $148 | View Tickets |
| Elkhart Lake IndyCar Series Tickets at Road America Raceway, Wisconsin | 6/09/2024 3:30 | $171 | View Tickets |
| Salinas IndyCar Series: Grand Prix of Monterey Tickets at Raceway Laguna Seca, California | 6/23/2024 3:30 | $194 | View Tickets |
| Mansfield IndyCar Series: Honda Indy 200 Tickets at Mid-Ohio Sports Car Course, Ohio | 7/07/2024 3:30 | $171 | View Tickets |
| Newton IndyCar Series: IndyCar Race Weekend - Race 1 Tickets at Iowa Speedway, Iowa | 7/13/2024 3:30 | $141 | View Tickets |
| Newton IndyCar Series: IndyCar Race Weekend - Race 2 Tickets at Iowa Speedway, Iowa | 7/14/2024 3:30 | $121 | View Tickets |
| Toronto IndyCar Series: Honda Indy Toronto Tickets at Canadian National Exhibition Place, Ontario | 7/21/2024 3:30 | $172 | View Tickets |
| Madison IndyCar Series Tickets at World Wide Technology Raceway at Gateway, Illinois | 8/17/2024 3:30 | $90 | View Tickets |
| Portland IndyCar Series: Grand Prix of Portland Tickets at Portland International Raceway, Oregon | 8/25/2024 3:30 | $166 | View Tickets |
| Milwaukee IndyCar Series Tickets at Milwaukee Mile At Wisconsin State Fair Park, Wisconsin | 8/31/2024 3:30 | $201 | View Tickets |
| Milwaukee IndyCar Series Tickets at Milwaukee Mile At Wisconsin State Fair Park, Wisconsin | 9/01/2024 3:30 | $201 | View Tickets |
| Nashville IndyCar Series: Music City Grand Prix Tickets at Nashville Street Circuit, Tennessee | 9/15/2024 3:30 | $201 | View Tickets |
IndyCar Series Tickets
If you want to watch IndyCar Series, then you are at right place. Tickets4Race.com offers an easy way to purchase cheap IndyCar Series tickets. We don't only sell tickets, but also provide 100% worry free guarantee. You will get discount IndyCar Series tickets on time and exact same place that you will select.

3% IndyCar Series Tickets Discount Coupon Promo Code: "CHEAPEST"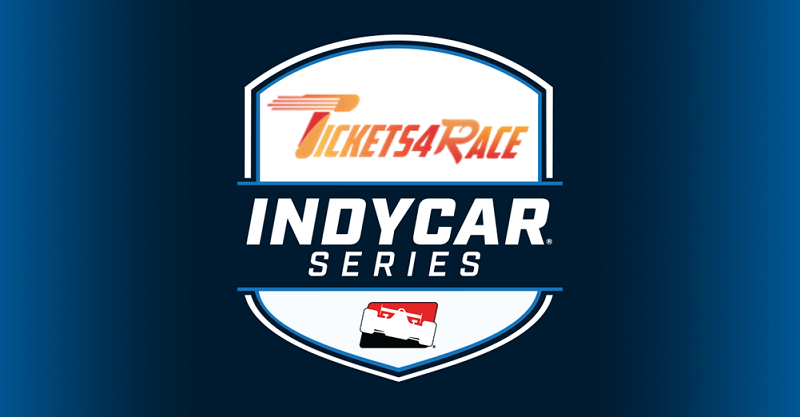 Check out the awesome rates and buy these discounted IndyCar Series tickets 2024 to get the best seats in the race. Tickets4Race.com is always available at your service to provide you with your desired seats according to your convenience. What are you waiting for get your cheap IndyCar Series Tickets from us now! Make sure to check out the IndyCar Series seating map for the exact location of your seat.
IndyCar Series HighLights:
Under the sponsorship of NTT, the IndyCar series is the largest and most anticipated open-wheel racing event in all North America. Entering its 25th season now the event first take place in 1996. This series was first introduced by the Indianapolis Motor Speedway owner Tony George.