| | | | |
| --- | --- | --- | --- |
| Daytona Beach NASCAR Cup Series: Daytona 500 - 4 Day Pass Tickets at Daytona International Speedway, Florida | 2/16/2023 3:30 | $1016 | View Tickets |
| Daytona Beach NASCAR Cup Series: Daytona 500 - 2 Day Pass Tickets at Daytona International Speedway, Florida | 2/18/2023 3:30 | $595 | View Tickets |
| Daytona Beach NASCAR Cup Series: Daytona 500 Tickets at Daytona International Speedway, Florida | 2/19/2023 3:30 | $143 | View Tickets |
Cheap Daytona 500 Tickets
If you want to watch Daytona 500, then you are at right place. Tickets4Race.com offers an easy way to purchase cheap Daytona 500 tickets. We don't only sell tickets, but also provide 100% worry free guarantee. You will get discount Daytona 500 tickets on time and exact same place that you will select.

3% Daytona 500 Tickets Discount Coupon Promo Code: "CHEAPEST"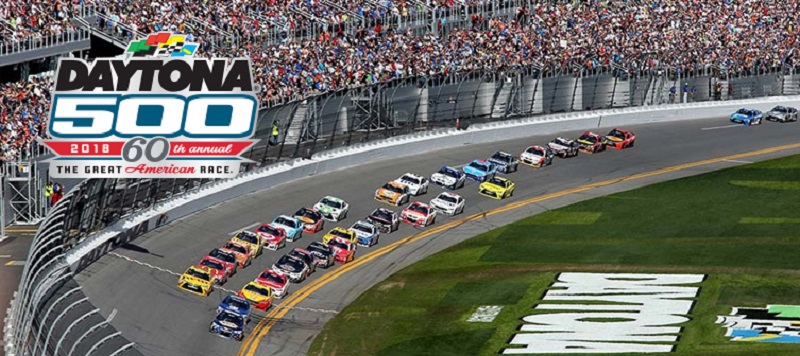 Check out the awesome rates and buy these discounted Daytona 500 tickets 2022 to get the best seats in the race. Tickets4Race.com is always available at your service to provide you with your desired seats according to your convenience. What are you waiting for get your cheap Daytona 500 Tickets from us now! Make sure to check out the Daytona 500 seating map for the exact location of your seat.
Daytona 500 HighLights:
One of the four restrictor-plate races on the Cup schedule, Daytona 500 is a 500 mile long NASCAR Cup Series motor race. The race is held every year at the Daytona International Speedway in Daytona Beach, Florida. Daytona 500 is the only racing event that decides its qualifier by speed. Come to the stadium if you are in for some spectacular finishes and unforgettable memories.
Winners
2021 race was won by Michael McDowell on Ford with team Front Row Motorsports.
2020 race was won by Denny Hamlin on Toyota with team Joe Gibbs Racing.
2019 race was won by Denny Hamlin on Toyota with team Joe Gibbs Racing.
2018 race was won by Austin Dillon on Chevrolet with team Richard Childress Racing.
2017 race was won by Kurt Busch on Ford with team Stewart-Haas Racing.
2016 race was won by Denny Hamlin on Toyota with team Joe Gibbs Racing.
2015 race was won by Joey Logano on Ford with team Team Penske.
Daytona 500 FAQs
Who is the NASCAR Daytona 500 Winner?
Michael McDowell won the 2021 Daytona 500, surviving a massive last-lap crash caused by Brad Keselowski.
When is the Daytona 500?
The 64th annual DAYTONA 500 will take place on February 20, 2022.
How Much Are NASCAR Daytona 500 Tickets?
Ticket prices for the 2022 DAYTONA 500 are starting from $157.
How Many Laps is the Daytona 500?
The Daytona 500 is a 200-lap race staged on a.
What Time Does the NASCAR Cup Series Daytona 500 Start?
The NASCAR Cup Series Daytona 500 will Start at 2:30 p.m. ET.
When Do Daytona 500 Tickets Go on Sale?
Tickets for the DAYTONA 500 2022 are officially on sale. Tickets4race has your discount Daytona 500 tickets.
How Long is Daytona 500?
The drivers normally take 3.5 hours to finish the race.
How Many Miles is The Daytona 500?
Its 2.5-mile tri-oval race track.